Skip to main content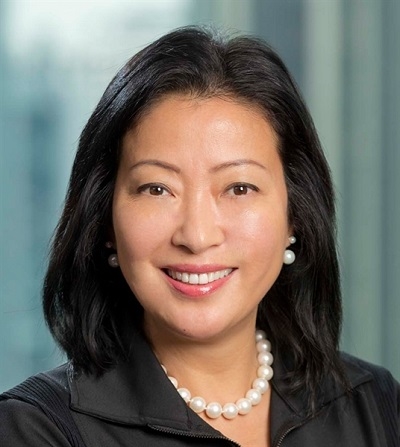 Sammi
Cho
Sammi Cho has been responsible for oversight of BNY Mellon's operating matters across Asia Pacific with focus on governance, administration and project management since 2014. In addition, she is also the Chief Executive of BNY Mellon's Hong Kong Branch since 2016, responsible for overseeing the operations and regulatory relations. Based in Hong Kong, she participates in BNY Mellon's Global Senior Leadership meetings and is a member of Asia Pacific Leadership Council. She currently serves on the board of The Bank of New York Mellon Securities Company Japan Limited and BNY Mellon Trustee Company Hong Kong Limited.
Sammi joined BNY Mellon Investment Management division in 2012 as Asia Pacific Chief Administrative Officer where she was also a member of Asia Pacific Investment Management Executive Committee and Director on the board of BNY Mellon Investment Management Korea Limited. She also served on the board of The Bank of New York Mellon Trust, LLC for Japan and BNY Mellon Investment Management Hong Kong Limited for 3 years and 6 years respectively.
Sammi is active in Employee Engagement and Diversity & Inclusion initiatives. She is a strong advocate for LGBT+ rights and was one of the three finalists in the LGBT+ Index Award's Executive Sponsor category and named as Top 50 Ally Executives published by the Financial Times in 2018. Sammi is an active member of Hong Kong Chief Executive Women's club and a frequent speaker at WIN conferences. She also led IMPACT Asia, BNY Mellon's employee and business resources group focused on cultural diversity. In addition, she is a board member of City Mental Health Alliance Hong Kong, for which BNY Mellon is a founding member.
With almost 30 years financial services experience and 20 years in Asia Pacific. Sammi has held various senior positions including Regional Chief Operating Officer at AIG Asset Management overseeing operations, information technology and analytics, and Chief Operating Officer at J.P. Morgan Trust Bank in Japan responsible for the regional corporate trust services. Prior to that, Sammi had also worked for Chase Manhattan Bank in New York and State Street and Trust based in Boston, managing various global initiatives in emerging markets and middle-office operations.
Sammi holds a Bachelor of Science degree from Columbia University.