Skip to main content
CMHA HK Guide to Thriving at Work
This Guide is intended as a reference to support companies in ensuring that their workplaces are healthy environments in which good working practices are embedded.
The document is based on a version originally developed by members of the CMHA UK. The UK document followed recommendations from CMHA research and an independent UK review into how employers can better support the mental health of people in employment. It provided a framework of actions that large City corporates were able to implement to support their employees.
In recognition of the unique working environment of Hong Kong and Asia Pacific, members of the CMHA HK from across the legal, financial and professional services industries have worked together to adapt the UK version of the Guide and create this Hong Kong document.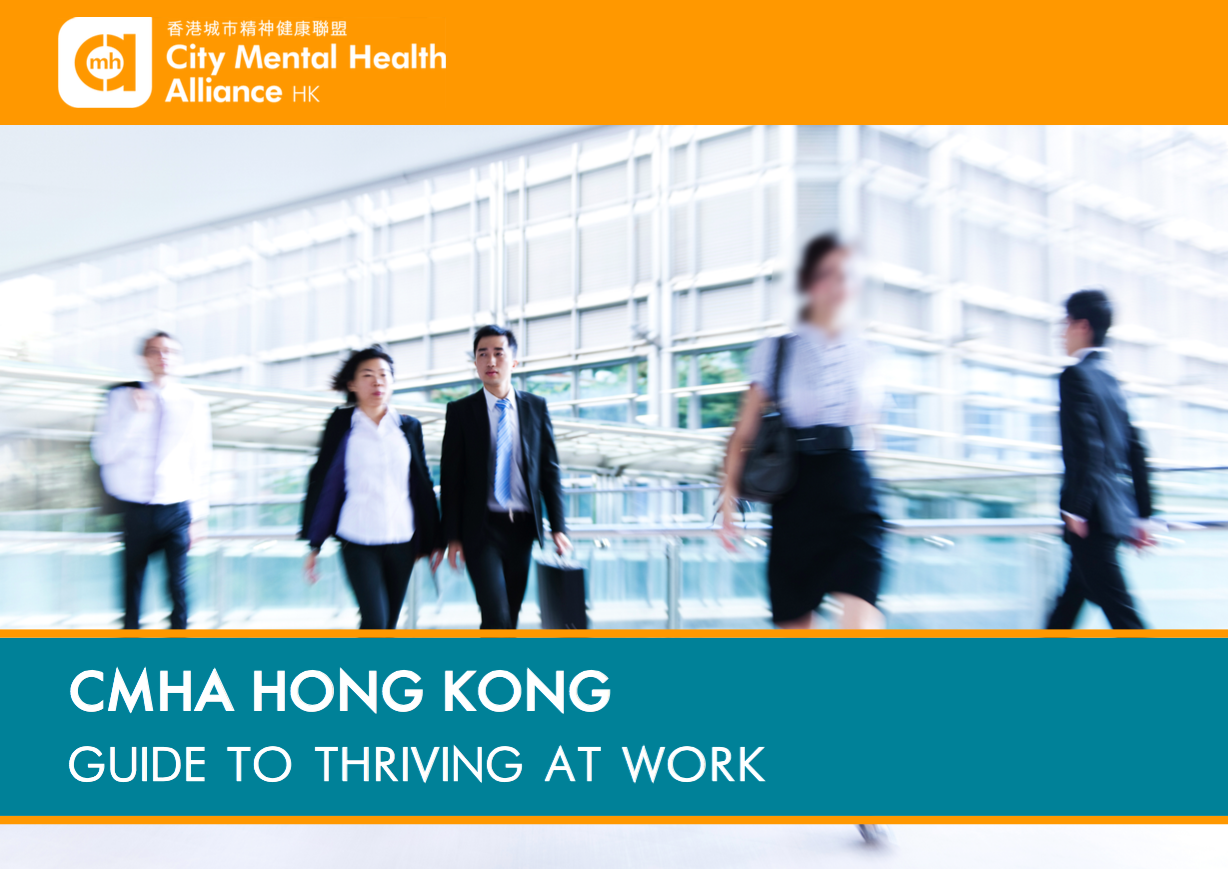 Thriving at Work Self-Assessment Survey
Since 2019, to support the design and implementation of workplace mental health and wellbeing strategies, CMHA HK has offered members an annual self-assessment survey based on the CMHA HK Guide to Thriving at Work as part of their membership.
From August 2021, the Thriving at Work Self-Assessment Survey is also available to non-CMHA HK members for a fee. Please contact our team to find out more.
The self-assessment survey gives companies a structured framework to assess their company's progress toward developing a mentally healthy workplace and helps to highlight any gaps and areas companies can focus on to achieve their workplace development goals. The on-line survey takes around 20-30 minutes to complete and all data entered remains confidential to the company and CMHA HK.
Once completed the data is analysed and CMHA HK creates an individual company report setting out the company's results in comparison with the aggregated results from other companies. The report gives an overall score and individual scores for each of the 8 Standards and various initiatives of the Guide.
All companies who complete the survey are offered a 1:1 meeting with members of the CMHA HK team to review the results and identify how progress can be made to move to the next level. The Maturity Matrix shows the four levels of achievement used in the Guide and the self-assessment survey.
Global Thriving at Work Framework
The Global Thriving at Work Framework is a guide to help businesses develop a global mental health and wellbeing approach.
Mental health stigma remains high in many countries and it is imperative that access to mental health support is improved. Global employers have a real opportunity to make a difference, not only in tackling stigma and providing support, but also by creating a working environment where people come to work to maintain good mental health.
This guide is the first of its kind to help global businesses accelerate the pace of change and become mentally healthy workplaces.