Skip to main content
CMHA HK PARENTS' TOOLKIT – PUBLIC EVENT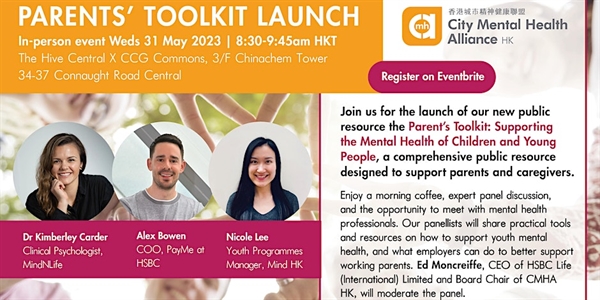 31 May 2023 
CMHA HK PARENTS' TOOLKIT – PUBLIC EVENT 
When: Wednesday 31 May 2023 (8:30am-9:45am)  
Location: The Hive Central, 3/F Chinachem Tower, 34-37 Connaught Road Central, Hong Kong 
We are excited to announce an upcoming event to launch our new Parents' Toolkit: Supporting the Mental Health of Children and Young People.
This comprehensive public resource provides clear information and links to external resources to help parents and caregivers better support children experiencing mental difficulties. 
A large proportion of the workforce comprises parents, and their mental well-being, as well as their children's, is crucial for both personal and professional success.  
Come join us over a morning coffee and learn more about the Parent's Toolkit and youth mental health from our expert panelists: Dr Kimberley Carder (Clinical Psychologist specialising in children and adolescents), Alex Bowen (COO, PayMe at HSBC) and Nicole Lee (Youth Programme Manager at Mind HK). Ed Moncreiffe, CEO of HSBC Life (International) Limited and Board Chair of CMHA HK will be moderating the panel. 
The event is free and open to the public. Please register here to confirm attendance. 
Watch the Panel Discussion at YouTube here .