Skip to main content
WHO - New Global Guidelines on Mental Health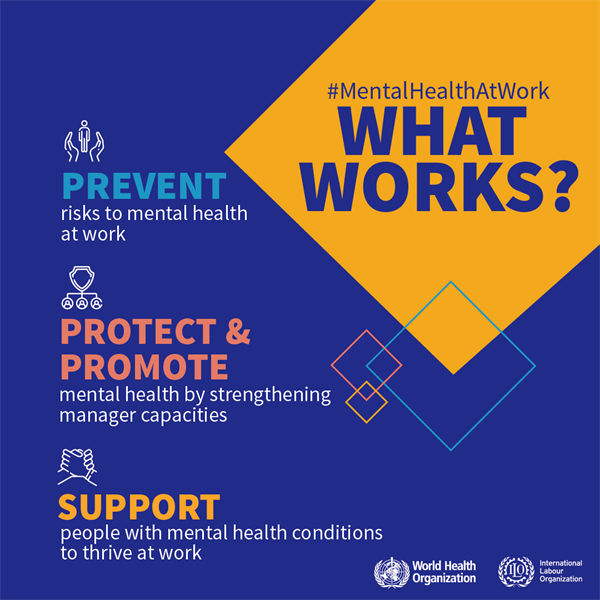 WHO and ILO call for new measures to tackle mental health issues at work

Today (28 September 2022) the World Health Organization (WHO) and the International Labour Organization (ILO) have released new global guidelines on mental health at work. This is a significant milestone with the WHO calling for concrete actions to address mental health concerns in the working population.
Reshaping the workplace to better protect our mental health  
The WHO report  released earlier this year strongly laid out why, in the face of the mental health crisis we face, "business as usual simply won't do". The report included a call to reshape and re-imagine the environments in which we spend our time, so that they better protect our mental health and prevent mental health conditions. The workplace was one of the environments the WHO prioritised with the word "workplace" mentioned 48 times. Globally the workplace is being recognised as a place that can be a risk to mental health if not managed properly, but also an environment that can have an enormous positive impact.  
Now the WHO and ILO have released two new publications: WHO guidelines on mental health at work and a WHO/ILO policy brief with practical strategies for governments, employers and workers. The WHO guidelines provide evidence-based recommendations to tackle risks to mental health such as heavy workloads, negative behaviours, and other factors that create distress at work. For the first time WHO recommends manager training, to build their capacity to prevent stressful work environments and respond to workers in distress. The supporting WHO ILO policy brief focuses on how workplaces can better prevent, promote and support the mental health of workers.
Accelerating progress 
Our ambitious vision is that every workplace will protect, support and create positive mental health. The WHO guidelines and the call for prevention, protection and support aligns with our Global Thriving at Work Framework which we launched to support businesses develop their global workplace and mental health strategy. The new guidelines echo what we have seen work through our decade of collaboration with businesses and mental health experts to seek out best practice and further reinforces the approach our members are taking in supporting the mental health of their employees globally. We are proud that MindForward Alliance and many of our members globally contributed to the development of these guidelines.
The need to scale and up accelerate the progress in workplaces globally is at the heart of why we have created our local alliances across different geographies and a central global chapter, MindForward Alliance. We look forward to continuing to collaborate with our members, to drive forward progress in workplace mental health by sharing best practice, adding to the evidence base of what works for businesses. We know that the journey ahead will only be possible with all of us connecting and working together. 
Resources