Skip to main content
Launch of MindForward Alliance: Transforming Workplace Mental Health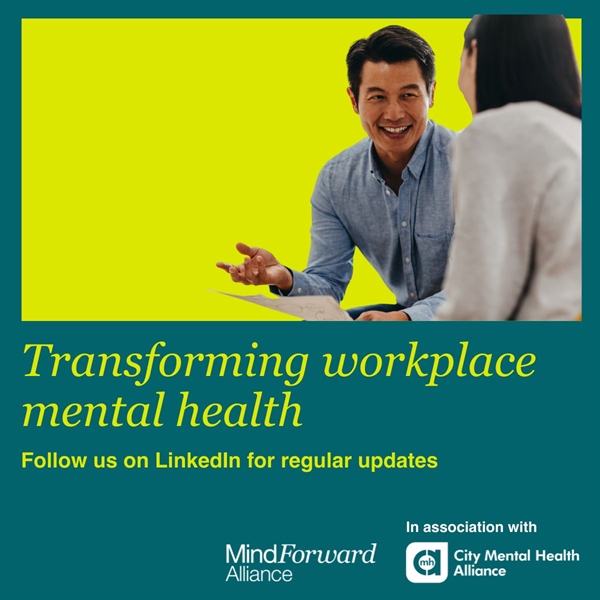 We are proud to announce the launch of the new global chapter from the City Mental Health Alliance  community: MindForward Alliance .
Poppy Jaman, Global CEO of MindForward Alliance, shared her perspectives on the launch.


What is the mission of MindForward Alliance?


The immediate goal of our new global chapter is to support businesses to transform workplace mental health in two ways. First, MindForward Alliance  is a response to those businesses who are asking for support in how to develop their global approach to workplace mental health. Second, MindForward Alliance  will assist businesses in those countries where the City Mental Health Alliance  does not (yet!) have a local presence.  

How will MindForward Alliance drive change globally?
 
MindForward Alliance's ambition is to set the standards for workplace mental health globally. This new Chapter will bring together a global community of leaders, wellbeing, DEI, risk, health and safety, HR practitioners and mental health experts across industry and sectors. We will work together to transform mental health and wellbeing in the workplace and reduce the wellbeing inequalities that exist around the world. 

What will businesses that are part of the Alliance benefit from?  

Businesses that join our new global community will have access to an exclusive programme of assessments, events, research, reports and opportunity for peer collaboration.  

What is your vision for MindForward Alliance?


Last week, I shared my thoughts on the World Health Organization  Report. It shone a clear light on the fact that, if we reshape and re-imagine the workplace, where we spend so much of our time – we can better protect and support mental health and wellbeing across the world. There is an urgent need and a huge opportunity to create and embed change, and we intend to seize the moment with MindForward Alliance .


How can businesses get involved?
 
If you are part of a global business looking to support the mental health and wellbeing of your colleagues, I would love to hear from you. Follow us on LinkedIn, sign up to our newsletter and find out more about us here .